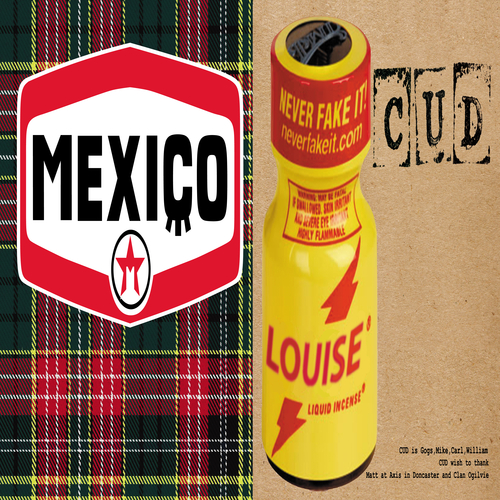 Louise / Mexico
Available Formats
Tracks
Price
Buy
Download Single (

WAV

)
2 tracks

£

1.50

Download Single (

MP3

)
2 tracks

£

1.50

7" Vinyl Single
2 tracks

£

4.00

Download individual tracks
From £0.67
Description
Cud - Louise / Mexico
CUD new single shock!!

Are Ingerland going to Mexico?
Well no. Why did Louise "pop" out to the shops? How the hell should I know? These may be the questions posed by this cheeky little double-A-sided offering from your own favourites and mine, but they're not.
"Louise" seems to tell the tale of an unduly angry woman wanting to cause some pain to the narrator. Why? isn't made clear. Maybe if they talked a little more...
"Mexico" is perhaps the same guy, though maybe not, and now he's "on the run". He needs to get away and get away fast. Where to? Why Mexico of course. Like in that song "Hey Joe", where the guy kills a girl and has to get away and get away fast.
Hold on!! Now I get it...

Reviews
Here's a kind message sent by JN of Sowerby Bridge.
"Dear Uncle Gabriel,
Thank you for the kind gift of a signed copy of the new Cud record. It will go nicely with my other treasures."